While fishing most of my life, I picked up some helpful tips. Click on the season for the Basshunters best tips!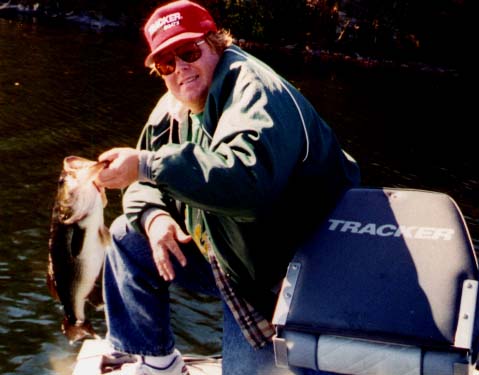 Click below on the time of year for those tips
Spring Time Bassin' Tips--
Summer Time Bassin' Tips -
General Tips Below
Handy Guide to LURE choice
Water Temp --Lure Speed-------Lure Size------------------Lure Choices
90--------------Fast--------------large 3/8- 5/8-----buzzbaits,topwater plugs, crankbaits,weedless spoons, jigging spoons
80--------------Fast--------------large 3/8 - 5/8----buzzbaits, topwater plugs, worms,crankbaits,jigging & weedless spoons
75--------------Fast--------------large 3/8 - 5/8---- 80 degree lures plus Carolina rigged worms and jerkbaits
70------------medium------------Med. 1/4 - 3/8----Topwater plugs, jigs, worms, crankbaits,spinnerbaits, jerkbaits
65------------medium------------Med 1/4 - 3/8-----Topwater plugs,jigs, worms,crankbaits,spinnerbaits, jerkbaits
60------------medium------------Med. 1/4 -3/8----Topwater plugs, jigs, worms, spinnerbaits,crankbaits, jerkbaits
55--------------slow-------------small 1/8 - 1/4----Jigs, tubes, spinnerbaits,crankbaits, topwater plugs worked slow
50--------------slow-------------small 1/8 -1/4 ----mini-jigs, tubes, jigging spoons,spinnerbaits, crankbaits
45-----------very slow--------ultralight 1/32-1/8----mini-jigs, tubes, jigging spoons all worked slow

Where to fish for Largemouths
Weedbeds (Cover)
The absolute best and preferred cover for Largemouth Bass. Make sure you fish around and in milfoil, hydrilla, lilypads,
eelgrass, coontail and cat tails. Inactive fish will bury down in the vegitation while active fish will cruise the outer edges
of the weedbeds looking for a meal.
Wood (Cover)
This is the second-most important cover to search for. Look for standing timber, logs, submerged stumps, and submerged brush.
Again, inactive fish, such as immediately after a cold front, will hold tight to the wood. Active fish will remain close, but will roam
farther from it with a large strike zone.
Lake structures
Bass will hold on points, road beds, humps (underwater islands), drop offs and creek channels at various times. They will
not stay there long , however, unless there is cover and the associated FOOD that the cover draws to it. Let me give you an example.
If you find a hump, located in 30 feet of water, that rises to 15 feet AND has a weedbed or stumps on it, you have found the
Motherload!!!. Chances are extremely good that there will be bass frequenting this spot often to hold and FEED. Another
great thing about this spot is that it is not visible to all other anglers and will therefore receive less fishing pressure than say
a blowdown tree along the shoreline that EVERYONE passing it will throw a few casts to. If you find a point, hump, or dropoff
with good cover, KEEP THIS A SECRET as long as you can. (Except for telling me) and you can win tournaments or rarely
go home skunked.
m - The Jig-worm is the ultimate EDGE bait designed to catch bass off weed edges. The Jig-worm is made by using a common leadhead jig into a 4 or 6 inch worm with an exposed hook. You can't fish this bait in heavy weeds but at the weed edges (outside or inside) this bait is dynomite. Use this bait as a verticle presentation during cold fronts when the bass are holding to the weed edge. If your bait snags in the weed edge, simply lift the rod sharply to rip it free. This usually entices finicky bass into striking.
Floating Worms - Floating worms are usually about 8 inches long and come in all kinds of HOT colors. Rig the floating worm Texas Style without weight to fish floating weed mats and Lilly pads. Simply cast the worm out and slowly work the worm back, letting it drop into holes in the pads or weeds. When you feel or see the strike, you must react quickly keeping your rod tip high and reel fast to get the fish out of the junk. Try to keep him on top and constantly coming toward you or he will bury in the weeds to try to get off. This is very exiting worm fishing and I love fishing the pads.
Carolina Rig - The Carolina rig uses a heavy weight, glass bead, and swivel. Attached to the swivel is a leader whose length is determined by what cover your fishing in. Recently, the popular worm to Carolina rig is the "do nothing" worm or sometimes called french fry. Many Pros have won major tourneys using this method and worm combo. I personally prefer to use a 6 inch Lizard on my Carolina rigs with a 3/0 Mustad Mega-Bite hook. This rig has cought me many bass fishing in stump fields and around points with cover on them. Here's my tip - Use a short leader (12 to 18 inches) for gonig through brush. The thicker the brush, the shorter the leader. In weedy areas, or stumps use a longer leader. (24 to 36 inches) If your rig is getting snagged in the weeds, slow down, lengthen the leader, and use a Riverside AIR fry or Mann's floating tube bait. this should get you well up off the bottom and in the prime ZONE to catch fish. Remember, you sweep the rod low to set the hook on a
Fishing Knots
There are only a few critical things involved in fishing. One of them is tying a good knot. Every fisherman should
have at least one knot that he can tie in the dark. Below are two of my favorites that are nearly 100% knots.
Meaning that the knot is as strong as the line itself. I use the Palomar for Hooks and Jigs. I tie the Trilene for just
about everything else. My advice here is to PRACTICE, PRACTICE, PRACTICE. There is nothing more
frustrating than to lose a nice fish to a bad KNOT.
Some great knots to learn (click on the thumbnails)
Trilene Knot
Palomar Knot

I hope you enjoyed reading my tips. Most are from many years of experience and trial and error. I sincerely hope that they can help you be a better fisherman. Remember, keep only what you need and release the rest to catch again.
GOOD FISHING !!!